Posted: May 12, 2015 8:52 PM SASTUpdated: May 13, 2015 1:20 AM SAST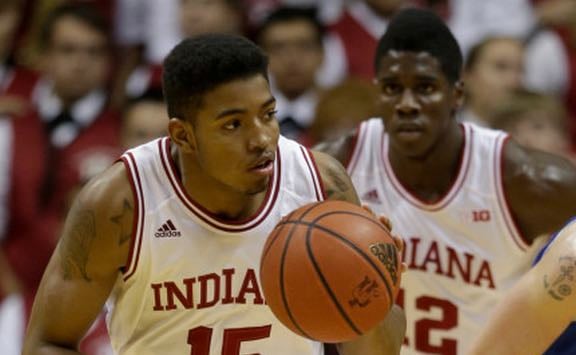 Indiana basketball player Devin Davis has been suspended after being cited for possession of marijuana.
LOUISVILLE, Ky. (WDRB) – Tom Crean knew another embarrassing moment like this could happen.
Crean said it repeatedly last winter whenever somebody would mention that his Indiana University basketball players had appeared to mature. The stupid, non-basketball headlines from October and November had finally stopped.
Crean would say his guys were growing up. But Crean always said that a backslide could come any moment. The parent in Crean knew this would never be a smooth and direct path.
A backslide came Monday.
You could say that Indiana's encouraging off-season, the one that has the Hoosiers ranked in the Top 15 in many 2015-16 polls, went up in smoke.
Devin Davis is again the guy who doesn't understand the privilege of playing basketball at IU. Davis doesn't understand how difficult he's making it for Crean to do his job.
The same Devin Davis who nearly died last October after he suffered a traumatic brain injury when he was hit by a vehicle driven by a teammate on Halloween Night. The word has always been that Davis' behavior was a major contributor to that nearly tragic moment.
The same Davis who didn't listen to Crean's 20-minute plea to act sensibly on Oct. 31 – and who obviously still isn't getting the message that Crean, his assistant coaches, athletic director Fred Glass and others have delivered.
Stop breaking team rules or the law.
Davis was cited by Indiana University for possession of marijuana at Hickory Hall, a campus dorm. Davis has been suspended from the team.
Devin Davis should remain suspended until he can make a convincing case of why Crean should let him play basketball at Indiana and risk having him embarrass the program again. I'm not certain that he can.
Until that happens, guys like Davis and Hanner Mosquera-Perea, who was in the room with Davis but not cited by police, will remain a risk of not respecting their coaches or the basketball program.
If they have to go, they have to go. They benefit from being a part of the basketball program more than the basketball program benefits from their presence at Assembly Hall.
College kid smokes pot.
What's the big deal? When you research the numbers about marijuana usage on college campuses as well as the increasing public support to legalize the drug, you'll be told it's more difficult to find college students who don't enjoy a recreational toke.
I could call a lengthy roll of local and national athletes who've been cited for using marijuana or even advocated legalization. Basketball, football, tiddlywinks. It doesn't matter. It's been the recreational drug of choice in college for decades.
Understood.
There is talk that the NFL Players' Association is interested in a discussion with the league about no longer testing for the drug. Four states have legalized recreational use of marijuana. The District of Columbia and 19 other states have approved medical usage of the drug. Maybe it was a pain situation. Who knows?
But Indiana is not one of the states where marijuana is legal for relaxation or for pain relief. Neither is Kentucky.
That's not the point or the debate here. The point is guys like Davis and Mosquera-Perea, who missed time in 2014 for violating team rules involving alcohol, are giving Crean this message:
Their pleasure is more important than his rules.
That's not a winning way for any team, business or organization to proceed.
Crean invested hours at Bloomington Hospital, encouraging Davis during his difficult journey from surviving to recovery. He brought him back to the team, made certain he was included in activities and talked enthusiastically about the day Davis would play again.
Even months after the accident, Crean would tear up. All it required were the coach's memories of the hospital bed and wondering when Davis would be able to rise and walk out of his room.
Davis had been making it. It's been an arduous trip, but he's been making it.
Out of the hospital. Back to Indianapolis for rehab. His first public appearance at a high school basketball game. Sitting behind the bench at IU games. Sitting on the bench at IU games. Dressed for the final home game. Shooting the ball at Cook and Assembly Halls. Light workouts. Individual workouts.
Progress. Slow progress. But progress nearly every week. The IU fan base looked forward to standing and applauding Davis' perseverance when he made it back into a game.
Crean said he was unsure what Davis's role would be next season, but that he was optimistic that Davis would be a contributor after missing his entire sophomore season.
That was the last time Devin Davis was a topic at IU until Monday night, when he showed that he didn't care about helping his coach as much as his coach had cared about helping him.
Copyright 2015 WDRB News. All Rights Reserved.